CityGuide -
our Tour Guide system for guided group tours during sightseeing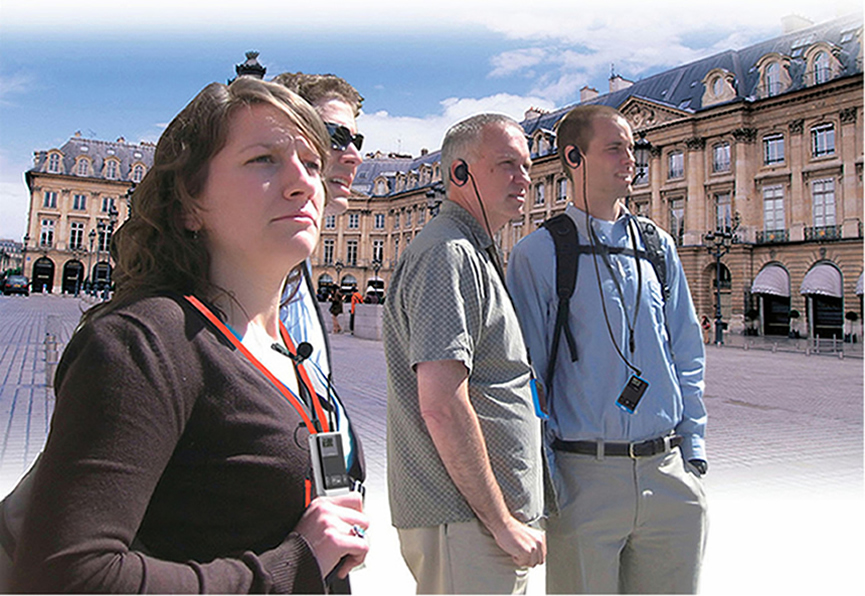 CityGuide is a feeless wireless tour guide resp. audio guide system using UHF technology. A perfect solution for those who guiding groups. For city guides, tour guides and tourist guides.
Guiding tourists during your city trips and tours will become a lot more pleasurable. Especially in noisy surroundings, our CityGuide system will improve your speech intelligibility tremendously.
Each participant always gets the best speech quality without staying close to the guide. Furthermore the system can be used indoor too. E.g. in museums or exhibitions.
 
The systems mobile receivers are feather-light (they only weigh 35 grams) and are very small, so you can use them whole day long without any loss of comfort. The single-sided, lightweight and sanitary earphone with flexible strap guarantees a crystal clear transmission of the guides voice.
The tour guides transceiver can be equipped with a wide range of different microphones. E.g. clip-microphone or different headsets using noice cancelling microphone technology. It´s also possible to loop in additional information or background music from an mp3 source or smartphone.
Thus, your tour will become more informative and lively!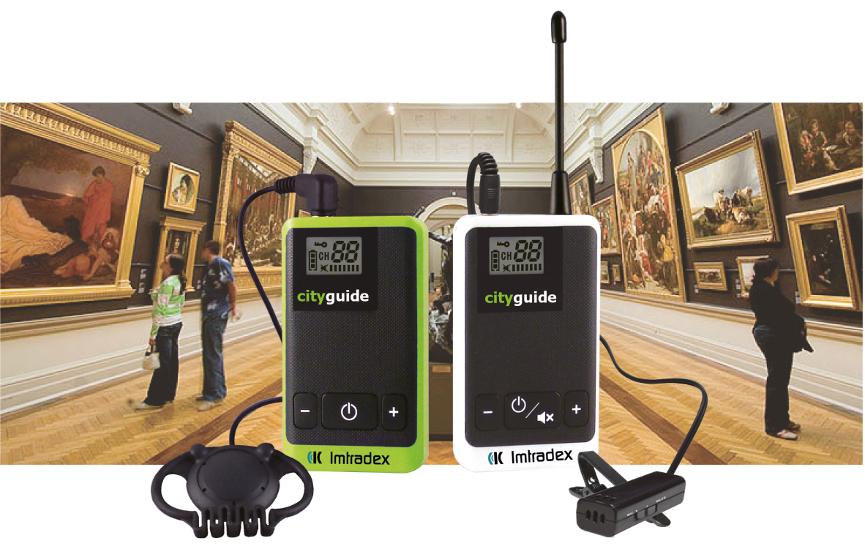 From now on, each of your guests will hear you as good, as he or she will stand right next to you!
You have the opportunity to choose between 16 channels. Channels can be switched manually oder automatically via the built-in synchronisation function. After selecting a channel, the receiver automatically gets locked, so that an accidently channel switch is impossible.
The devices are very easy to use, so everyone, no matter if young or old, will be able to use them intuitively. Besides the chosen channel, the LCD display also shows you volume level, storage battery level and system state.
The built-in storage batteries ensure an uptime of 15 hours for the transceiver. For the receivers guaranteed uptime is even 20 hours.
16 channels selectable, including auto-sync and channel lock
No registration required, feeless within Europe
Any desired number of receivers possible
Each of your guests will get a perfect listening experience
No crush of people around the tour guide
Tour Guide doesn´t have to speak loud anymore. The tour guides voice will be spared.
Guests who left behind can be addressed directly
Thus group stays together
No disturbance through other groups or persons
Altogether the tour will become less noisy, no noisiness in museums or churches
Very easy to use
In a word: The overall quality of your guidances will significantly rise!
compact measurements and low weight, therefore full-day useable
easy and light to carry between your operating places using our light-weight charging bag
rechargeable batteries, no environmental pollution by non-refillable batteries
Energy savings by automatically power off receivers (when no signal reception)
Removable batteries for servicing, therefore very sustainable
no disposable earphones required, thus environment gets saved
easy to clean and sanitary earphone, which fits flexible to your outer ear, doesn´t touch the inner ear, no foam pads which have to be changed
Various types of microphones, headsets, monaural and binaural earphones, headphones, neckstrap headphones, inductive neckloops for hearing aid, cords, charging adapters, as well as spare parts like replacement batteries available upon request.
 
Various charging-, storage- & transportation options available:
SyncKit:
With the help of the SyncKit you can easily switch all receivers, which are located in the charging unit, to the channel of your choice. Thus the arrangement of your groups becomes a cakewalk.
If you only plan guidances from time to time, we can also offer you the opportunity to rent our CityGuide system in the configuration of your choice on a daily basis or by the week. As existing customer you can also extend your CityGuide system for larger groups.
No matter what your requirements are, our CityGuide system gets composed in the configuration of your choice.
Prices on request! We are looking forward to make you your own tailor-made offer for sale or rent!
Please call our sales department for further information. We are looking forward making you an individual tailor-made offer for sale or rent!
+43 1 20 44 294-0
email: office@imtradex.at